Building a Custom Home in Bend? What to Know About Winter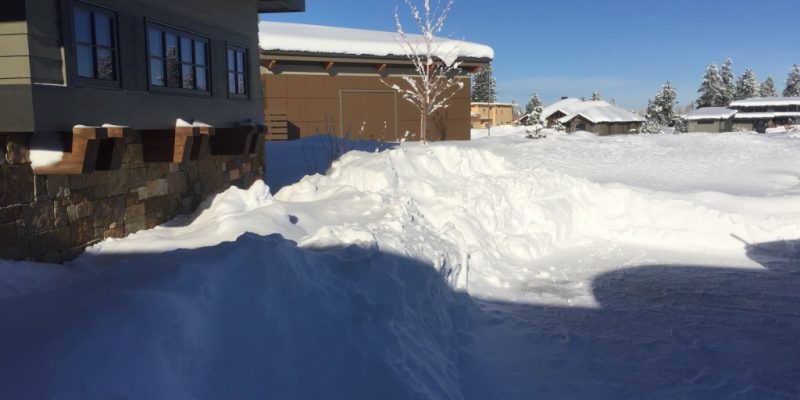 4 Winter-Proofing Strategies that Save Time and Money
This winter of 2016-2017 was one of the most severe on record in Bend, Oregon. In January, we set a new single-day record for snowfall (20 inches), which was part of a months-long "snowpocalypse," as it came to be known, that wreaked havoc on homes and commercial buildings.
Aside from the hassle of school closures and challenging travel, many homeowners — even those in new and high-end custom homes — faced serious flooding or water damage caused by ice dams that formed on the edge of roofs.
And while we're not likely to get a repeat of last year's record-setting snowfall, it's not uncommon for Old Man Winter to have a heavy hand east of the Cascades from December through March. We're not talking Nome, Alaska, but our temperature swings and winter snows even in an average year are far more extreme than what you'd experience on the western slopes of Oregon, Washington or California.
That's why it is critical to insist on preventive winter-proofing strategies when building your custom home in Bend.
During the construction phase, incorporate the following four tips and you'll save time, money and hassle when the snows fly.
During site prep, be sure to grade the site away from the house to prevent flooding in the crawl space.
Use a top-quality building wrap and vapor barrier system. While we prefer felt here at Seven Bridge, Tyvek is a good product when used with the complete Tyvek system. Insist that your builder install it to the manufacturer's specifications.
Prevent moisture from ice dams from entering the home by using Ice & Water Shield for the first six feet of roofing barrier under the roofing material.
Don't skimp on insulation. It's cheap insurance and no other purchase has better return on investment. It can also help reduce the severity of ice dams.
At Seven Bridge, our no-shortcuts approach to custom home-building and decades of experience means peace of mind, even in the winter, for our clients. Long after the home-building process is complete, we stand by our commitment to quality.
Have questions about building a luxury custom home in Bend? Get answers here.

https://www.seven-bridge.com/wp-content/uploads/2017/06/Blog-1-800x400-1.jpg
400
800
admin
https://www.seven-bridge.com/wp-content/uploads/2022/11/SevenBridge_Logos_3-trans-white-400.png
admin
2017-06-06 23:43:15
2022-11-15 20:11:22
Building a Custom Home in Bend? What to Know About Winter